GET THE SCOOP on Beabadoobee
Three years ago, the London-based Filipino-British indie singer-songwriter, also known as Bea Kristi, uploaded a low-fi love song called "Coffee" to YouTube. Little did most listeners know it was the first song she'd written, ever.
Kristi, who performs under the name Beabadoobee (taken from her old "finsta" handle)
"I came home from school one day, and I think my dad had noticed that I was getting depressed and kind of bored, so he bought me a secondhand guitar," recalls the 20-year-old London singer-songwriter. She wrote "Coffee" on her new guitar without giving it much thought — "The tempo changes halfway through, it's dumb as fuck," she says now — and though she only uploaded it so she could share it with her friends, it blew up, with more than 300,000 views.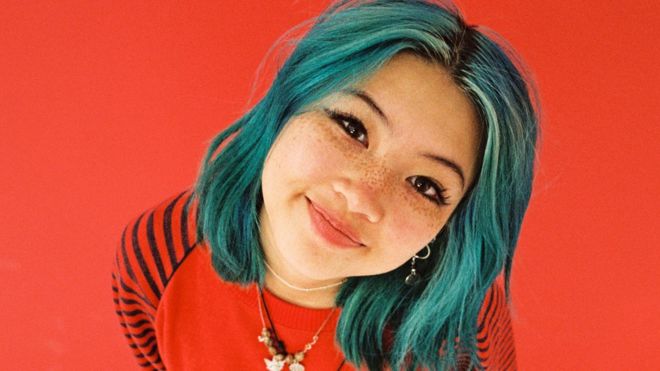 Labels reached out to her, and overnight, it seemed, Kristi had fans who wanted to hear more. Soon she had a record deal with Dirty Hit, joining the same ranks as the 1975, Wolf Alice, and Rina Sawayama. She's made the most of the partnership: Even in quarantine, she's been working with the 1975's boisterous frontman Matty Healy and drummer George Daniel. "Knowing Matthew, he's just always sent me music," she says. "Hopefully when all of this is done, and with my band members and Matty and George, we'll probably make something – something small."
She typically finds inspiration by writing songs in her bedroom, but that hasn't made self-isolation any less nerve-wracking. "I had a really bad writing drought," she says, "and quarantine makes that hard, because there's nothing else to do." She passes the time as best she can with an active Instagram account, posting mirror selfies that show off her guitars, her recently bleached hair, and her collection of oversized sweaters.
You may also want to dig deeper into some of her covers.
Catching fans attention in 2019 with standout tracks like "Space Cadet" and "She Plays Bass," but today (November 20) hits us with a lively, grunge-fueled cover of Simple Minds' '80s teen movie soundtrack classic "Don't You (Forget About Me)." Beabadoobee recorded this one at Abbey Road Studios as part of Spotify's singles series, and we can only hope she adds it to her live sets in Boston this week. Allow the cover to consume your angry little heart below.
Beabadoobee serves up a grunge-fueled cover of an '80s teen movie classic